TOYS FOR TOTS Laguna Beach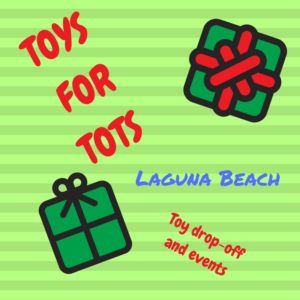 TOYS FOR TOTS Laguna Beach
Please join some of Laguna Beach's local businesses in supporting the United States Marine Corps Reserve TOYS FOR TOTS program!!!
Why they do what they do!!
The U. S. Marine Corps Reserve Toys for Tots Program's main purpose is to collect new, unwrapped, toys during the months of October, November and December. They do this every single year. They distribute these presents to less fortunate children in the communities in which the campaigns are conducted.
For further information, please visit the Official Website for the Marine Toys for Tots Foundation
Listed below are a few of the Laguna Beach drop-off locations where you can drop off new, unwrapped, toys for the tots.
If you know of any others, please let me know and I will gladly add that information.
North Laguna Beach Drop-Off:
Any day during their business hours. Last day for drop-off is Dec 21st.
Local Insurance Agent Phil Newton has joined forces with RWorld Surf & Skate in providing a convenient drop-off location in North Laguna.
Phil Newton Insurance
305 N. Coast Hwy, Suite Q (upstairs)
949-71502600
pnewton@farmersagent.com
RWorld Surf & Skate
305 N. Coast Hwy
949-715-8953
RWorld Surf & Skate
South Laguna Beach Drop-Off Event
ALL DAY Monday Dec 18th
Starfish
30832 S. Coast Hwy
949-715-8205
Starfish Laguna
Each person that brings in a new, unwrapped, toy will receive 50% off their check!! Live music by begins at 6:00 p.m.
South Laguna Beach Drop-Off Event
Thursday, December 14th 6:00 p.m.
Coyote Grill
31621 Coast Hwy
949-499-4033
Coyote Grill
Bring a toy and get a free bottle of Mago AND you will also be entered into their raffle. Raffle is at 8:00 p.m. They will also be having drink specials all night!