Fun Things to Do in Laguna Beach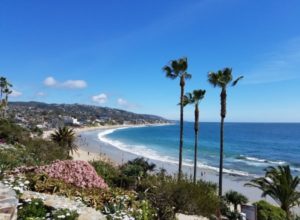 1. BEACH DAY
Laguna Beach's coastline consists of approximately 7 miles and 30 of the most beautiful beaches and coves in Southern California. Enjoy the sparkling, blue/green waters of Laguna while snorkeling, scuba diving (scuba divers – don't forget the shipwreck at Cleo Street Beach, skim boarding, surfing, or paddle boarding. Visit one of the beach's tide pools and explore Laguna sea life. Check out the tower at Victoria Beach and don't forget about Thousand Steps Beach, Table Rock Beach….it goes on and on!! List of Laguna Beaches and Coves.

2. ART FESTIVALS
Sawdust Art and Craft Summer Festival runs from late June until late August or early September and features over 200 Laguna Beach artists.
Laguna Art-A-Fair runs approximately the same time as the Sawdust Art and Craft Summer Festival and features approximately 120 fine artists from around the world.
Festival of the Arts also runs approximately the same time as the Sawdust Art and Craft Summer Festival and features 140 local fine artists from Orange County.
Note: All three of the above-mentioned festivals are on Laguna Canyon Road, near each other. If you wish to visit more than one on the same day, please check the exact dates for each one as their opening and closings are staggered by a few days.
Sawdust Art and Makers Winter Fantasy runs for 5 weekends from the middle of November to middle of December and features about 180 artists.

3. PAGEANT OF THE MASTERS
Pageant of the Masters is an amazing show to witness. It is a show of living pictures, recreations of classical and contemporary works of art, whereas real people pose motionless and silent and look exactly like the original work of art. This tableaux vivants is a main attraction at the Festival of the Arts and, like the Festival of the Arts, runs from early July to late August.

4. THE LAGUNA PLAYHOUSE
Laguna Playhouse was founded in 1920 and is one of the oldest continuously operating, not-for-profit theatres on the West Coast. The Laguna Playhouse was named Best in OC in Live Theatre by the Orange County Register in 2015 and 2016. Comedies, dramas, musicals and much more run year-around at The Laguna Playhouse.

5. ART GALLERIES
Laguna Beach, a seaside artists community, has so much to offer to any level of art enthusiast. From North Laguna Beach to South Laguna Beach the Village Area and Downtown Laguna Beach you will find the most interesting art galleries covering a wide variety of artistic time periods and styles.
First Thursdays Art Walk Laguna Beach happens the first Thursday of every month. This is a fun way of getting to know the local artists' works. The seasonal free trolley runs during the First Thursday Art Walk so you can visit the galleries that are of interest to you more easily.
Laguna Art Museum is California's oldest museum and is located at 307 Cliff Drive. Laguna Art Museum collects and exhibits only California art. The artwork at the museum is either created by California artists or represent the life and history of California. The California art displayed at the Laguna Art Museum ranges form 19th Century to present day.
Whaling Wall is located at 509 S. Pacific Coast Hwy and is the 1st of the series "100 Whaling Walls". Wyland and the Wyland Foundation started in 1981 and completed the series in 2008. The Whaling Wall murals were painted in life-size dimensions on 5 different continents, 17 countries, and 79 cities to increase appreciation for aquatic habitats. Directions to Wylands
6. SELF-GUIDED PUBLIC ART WALKING TOUR
Scattered throughout the city you can find displays of public art. These public art pieces consist of murals, sculptures, park benches and signage.
7. SOUTH COAST WILDERNESS AREA
Laguna Coast Wilderness Park (7000 acres), Aliso and Wood Canyons Wilderness Park (4500 acres), and Crystal Cove State Park (2400 acres) are all a part of the South Coast Wilderness Area. This area is a must for hikers, walkers, trail runners, and mountain bikers. There are miles and miles of trails with some of the most fabulous ocean and canyon views around.
8. FREE TROLLEY RIDES
Whether you are beach hopping, or checking out Laguna Beach's restaurants, art galleries, or shops, Laguna Beach's Free Trolley is the fun way to go. The trolley service runs 7 days a week during the summer and every weekend year-around.
9. PARKS
There is no shortage of great parks in Laguna Beach!
Heisler Park is located on Cliff Drive, one block off Coast Highway at Myrtle Street. Heisler Park is a large oceanfront park with access to Picnic Beach, Rockpile Beach, Diver's Cove and Main Beach. Walking paths, large grass areas, picnic tables, charcoal grills, and bathroom facilities help make this park a favorite Laguna Beach destination.
Alta Laguna Park is where you will find the spot known as "Top of the World" because it is the highest point in Laguna Beach at 1000 above sea level. You can imagine the view from up there! Alta Laguna Park has tennis courts, half-court basketball court, sports field, playground, and access to hiking trails.
Moulton Meadows Park is located at Del Mar and Balboa Avenues in the hills of Laguna Beach. Moulton Meadows Park has a field, barbeque, picnic tables, tennis courts, basketball courts, a running track, and a large playground.
Crescent Bay Point Park, Laguna Beach Dog Park, Bluebird Park, Brown's Park, Lang Park, Main Beach Park, Nix Nature Center, and Treasure Island Park are a few more Laguna Beach parks that are definitely worth a visit.
10. HISTORICAL SITES
Now closed…..Hotel Laguna was Laguna Beach's very first hotel and had provided more than 100 years of service and is still one of the most known buildings in Laguna Beach. Hotel Laguna was located at 425 South Coast Highway.
St. Francis by the Sea was once noted in the Guinness Book of World Records for being the smallest cathedral in the world at 1008 square feet. St. Francis by the Sea was built in 1933 and has only 42 seats. St Francis by the Sea is located at 430 Park Avenue.
Murphy Smith Bungalow, located at 278 Ocean Avenue, is home of the Laguna Beach Historical Society. It was built in 1923 and now displays Laguna Beach memorabilia. It is decorated in the style of a 1920's beach cottage.
11. HORTENSE MILLER GARDEN
Schedule a two-hour tour to visit 2.5 acres of the hillside Hortense Miller Garden with over 800 species of plants.
12. PLEIN AIR PAINTING INVITATIONAL
Every year the Laguna Plein Air Painters Association holds the Laguna Beach Plein Air Painting Invitational. This 9 day event includes public paint-outs, demonstrations, conversations and educational events and activities.
13. PACIFIC MARINE MAMMAL CENTER
The Pacific Marine Mammal Center is located at 20612 Laguna Canyon Road and is open to the public every day from 10:00 a.m. – 4:00 p.m., except certain holidays. The Pacific Marine Mammal Center rescues, rehabilitates, and releases marine mammals.