First Thursdays Art Walk Laguna Beach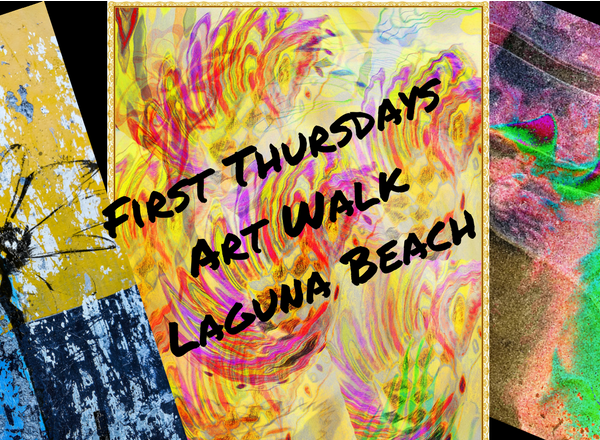 Where: Laguna Beach, California
When: The first Thursday of every month
Time: 6:00 p.m. – 9:00 p.m. Please note: Each gallery may have varying hours. Please check FTAW website for more info.
Cost: Free
Trolley Service: Free Art Walk trolley service starts at 6:30 p.m. and ends at 9:30 p.m. In North Laguna, trolley service starts at Laguna Art Museum. In South Laguna, trolley service starts at Bluebird Canyon Road.
Parking: Metered parking is available along Coast Highway. It is free after 7:00 p.m.
First Thursdays Art Walk Laguna Beach…. bringing more awareness to arts and education.
Please check the First Thursdays Art Walk website for each month's gallery participants as well as special events.
December 2017
This month's special Art Walk Event
LCAD's Professional Mentoring Program
December 7, 2017
December is the month the Laguna College of Art and Design's Professional Mentoring Program students will be exhibiting their works of art.
The LCAD mentoring program pairs Fine Arts majors with member galleries of First Thursday Art Walk.
December 7, the 14 students listed below will be exhibiting their artworks in their sponsoring gallery's showrooms.
Proceeds from the sale of the students' artworks go directly to the students and also to the FTAW-LCAD Scholarship Fund.
Alexandra Wagg @ La Bottega Delle'Acquaforte
Natalie Terenzini @ The Redfern Gallery
Angelica Spears @ saltfineart
Jackie Inzunza @ Cove Gallery
Bailey Sack @ DeRu's Fine Art
Donna Walling @ Artist Eye Gallery
Cristina Matadama @ Cast of Crowns Art Collective
Tristan Abel @ Kelsey Michaels Fine Art
Wendy Gracia @ The Signature Gallery
Ani Dylan @ Quorum Gallery
Dan Nguyen @ Avran Fine Art
Charlie Antolin @ Dawson Cole Fine Art
Michael Munroe @ Tumbleweed Art
Sureya Davis @ Whitney Gallery
During the Art Walk tonight, from 6:00 – 8:00 p.m., Buy Hand Laguna will be having their global holiday party. This celebration will include music, food, and authentic Indian henna, as well as gifts (while supplies last). More info here: Global Holiday Party