Join Laguna Buy Hand and The Peace Exchange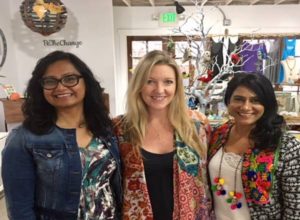 Buy Hand Laguna Viddya Reddy, Katie Bond And Kavita Reddy The Peace exchange
Buy Hand Laguna and The Peace Exchange are holding a global holiday party to celebrate the end of 2017. The two organizations, fueled by their passion to help disadvantaged people around the world, invite you to celebrate with them while shopping for a cause.
The Peace Exchange is a registered local 501c3 non-profit organization founded in Laguna Beach, CA. The organization works to promote fair trade by supporting 'at-risk' groups around the world. Through establishing fair trade cooperatives, The Peace Exchange has provided artisans in the Democratic Republic of Congo a sense of livelihood. The Peace Exchange is expanding their efforts in 2018 and will use proceeds from the event to help expand into Bolivia and/or Nepal.
Buy Hand specializes in American handmade gifts and jewelry. Earlier this year, the local retailer expanded its line to include a global fair trade collection that showcases vibrant colors and treasured craftsmanship from around the world.
The global-themed event will feature gifts (while supplies last), music, food, and authentic Indian henna on the retailer's site.
The celebration takes place during December's Art Walk on December 7th, 2017 from 6:00pm-8:00pm at
1175 S. Coast Highway Laguna Beach, CA 92651
Click here for directions
All are welcome. Free of charge.