Tibetan Lama to Offer Public Talk & Healing Ceremony for World Peace in Laguna Beach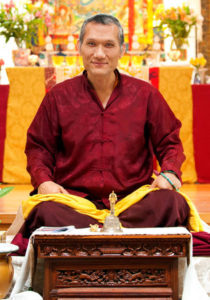 Yangsi Rinpoche, a Tibetan Buddhist lama in the lineage of His Holiness the Dalai Lama, will offer a public talk, How to Achieve Happiness, and Healing Ceremony for World Peace in Laguna Beach on Sunday, November 19 at the Woman's Club of Laguna Beach, 286 St. Ann's Drive Laguna Beach CA 92651
All are welcome to attend both events organized by Laguna Beach's Gonpo Ludup Study Group, part of the international Tibetan Buddhist organization the Foundation for the Preservation of the Mahayana Tradition.
Based in Portland, OR, Rinpoche teaches in English and known for his extraordinary insight into the Western psychological condition.
"Rinpoche really understands the dissatisfaction and depression so many of us in the West experience, and has a way of making Buddhist psychological tools accessible to everyone," said Gonpo Ludup coordinator Kate Macdonald.
Born in Kathmandu in 1968, Yangsi Rinpoche recognized at age six as the reincarnation of a great master and yogi from Western Tibet. Enthroned that year and at ten began his studies at at Sera Je Monastic University, in south India, where he graduated in 1995, after 25 years of study, with the highest degree of Geshe Lharampa.
In 1998 Rinpoche left India to bring the ancient wisdom of the Buddhist teachings to the West. Since then he has taught extensively throughout the US and Europe. In 2005 he founded Maitripa College in Portland, which bridges the worlds of Tibetan Buddhist and Western scholarship. He is also the spiritual director of Buddhist centers in Puerto Rico and Seattle, WA.
In the public talk, How to Achieve Happiness, Rinpoche will delve into the Buddhist approach to happiness and inner peace.
Attendees encouraged to bring any and all questions they might have about happiness, Buddhism, or life in general.
In the Healing Ceremony for World Peace, Rinpoche confers a blessing of Medicine Buddha, to be the manifestation of the healing energy of all enlightened beings.
"Medicine Buddha is about healing," says Rinpoche. "The ceremony is to help heal the time that we are going through as a community, as a country, as a nation, as an individual what each of us is going through. Any kind of healing ceremony is very beneficial for your personal life to make progress."
Attendees are welcome to bring the names and photos of loved ones to the ceremony. You are also welcome to email the names of your friends and loved ones to kate@gonpoludup.org. Rinpoche will include them all in his prayers.
Event Details
Public Talk: How to Achieve Happiness
Sunday, November 19, 1 – 2:30 p.m.
Woman's Club of Laguna Beach
286 St Ann's Drive Laguna Beach, CA 92651
Sliding scale $10 – $30; no one turned away for lack of funds
To get more information or to register click here
Event Details
Special Event: Healing Ceremony for World Peace
Sunday, November 19, 4:30 – 7:30 p.m.
Woman's Club of Laguna Beach
286 St Ann's Drive Laguna Beach, CA 92651
Free, offered by Gonpo Ludup Study Group
To get more information or to register click here