First Thursdays Art Walk May 3 2018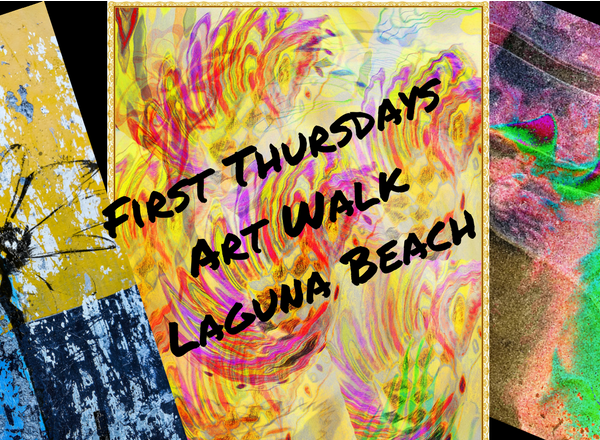 Where: Laguna Beach, California
When: The first Thursday of every month
Time: 6:00 p.m. – 9:00 p.m. Please note: Each gallery may have varying hours. Please check FTAW website for more detailed information regarding FTAW and other gallery happenings.
Cost: Free
Trolley Service: Free Art Walk trolley service starts at 6:30 p.m. and ends at 9:30 p.m. In North Laguna, trolley service starts at Laguna Art Museum. In South Laguna, trolley service starts at Bluebird Canyon Road.
Parking: Metered parking is available along Coast Highway. It is free after 7:00 p.m.
May 3, 2018
6:00 – 9:00 p.m.
Laguna Beach
First Thursday Art Walk
North Laguna Beach Galleries
Laguna Art Museum
307 Cliff Drive
Tony DeLap – A Retrospective will be showing until May 28, 2018. The exhibition includes approx eighty paintings, sculptures, and drawings.
Laguna Presbyterian Church
415 Forest Avenue
Laguna Presbyterian
May through September their Art Walk exhibit will feature historic photos in honor to Anna A. Hills, founding artist of The Art Association at Laguna Museum of Art.
Lu Martin Galleries
372 North Coast Highway
Introducing their newest artist, Chuck Joseph
Quorum Art Gallery
374 North Coast Highway
Meet their featured artist of the month Emilee Reed. Here artwork is available at both the Quorum Gallery and the Watercolor Gallery.
Sandstone Gallery
384-A North Coast Highway
Meet the featured artists of the works that will be shown from May 1 – June 4, 2018 during Art Walk. Complimentary refreshments will also be offered.
Central Laguna Beach Galleries
AG Vision
572 South Coast Highway
Art Walk is the beginning of their three day Cinco de Mayo celebration – Cinco de Artwork.
They will be offering specials, pinatas, music, and refreshments.
Las Laguna Gallery
577 South Coast Highway, Unit A1
Artist Reception during Art Walk
Impressionism vs. Realism – A Group Exhibition
LCAD Gallery
374 Ocean Avenue
2018 BFA Fine Arts Exhibition May 3 – 31, 2018
Art Walk Opening Reception
Laguna Gallery of Contemporary Art
611 South Coast Highway
Come see the newest work by Chris Justice during First Thursdays Art Walk
Miche McClendon
241-A Forest Avenue
You can see the new collection, Black Knight, during Art Walk this week. The new collection features ancient style, handmade pieces with Gothic elements. Snacks will be on hand while you witness how the work is created.
Ning Zhou Gallery
357 South Coast Highway
Will be presenting theirlatest release, Water Charm – Staccato, during Art Walk.
The Signature Gallery
220 Forest Avenue
Celebrate 10 years of featuring Jenny Simon, oil painter, at The Signature Gallery with Jenny Simon -Art Extravaganza / Love, Texture & The Sea. See her newest collection, meet the artist, and enjoy a live performance by jazz saxaphonist and singer, Rick Parma.
T Leo Art
550 South Coast Highway #3
Grand opening celebration during this weeks Art Walk. T. Leo ART is a gallery featuring a mixture of paintings, photography, and wood works.
A portion of the proceeds from elephant related art goes to Save the Elephants.
The Signature Gallery
220 Forest Avenue
10 Year Milestone for The Signature Gallery which opened its doors in Laguna Beach on January 1, 2008.
In celebration of featuring oil painter Jenny Simon, for these past 10 years, come see Jenny Simon Art Extravaganza! Meet the artist herself and enjoy a special live performance by jazz saxaphonist and singer, Rich Parma.
Whitney Gallery
305 Forest Avenue
Come see new paintings by artist, Marc Whitney during Art Walk.
South Laguna Beach Galleries
The Chakra Spa Gallery
1390 South Coast Highway
There will be paintings and sculptures on display during Art Walk. Enjoy hors d'oeuvres as well.
Cove Gallery
1550 South Coast Highway Suite 103
Come meet Nancy Roux featured Artist of the Month. Complimentary hors d'oeuvres and wine will be available as well.
The Exhibition, UNITY: Imagine, will run until May 31, 2018.
foaSouth
1006 South Coast Highway
The exhibit, Mixing it Up, will be on display until July 25,m 2018.
Nuance Home + Lifestyle
1200 North Coast Highway
Welcoming painter, Susan Leonhard, from 5:00 p.m. – 8:00 p.m. during Art Walk.
The Redfern Gallery
1540 South Coast Highway
William Wendt (1865-1946) Landscape with Path, dated 1933, oil on canvas.
William Wendt was a founding member of the Laguna Beach Art Association in 1918.
100 Years Laguna Beach Art Association.
Sheila Olsen Gallery
784 South Coast Highway
Presenting artist, Gar Benedick, fine art abstract painter and photographer. Beginning during this week's Art Walk, in the upstairs terrace garden, and showing the entire month of May.
The Vintage Poster
1492 South Coast Highway Suite 4
Come by and see their large collection of authentic vintage posters during Art Walk.