Toastmasters of Laguna Beach
Host
OPEN HOUSE
Toastmasters of Laguna Beach Host Open House

Event is FREE to the public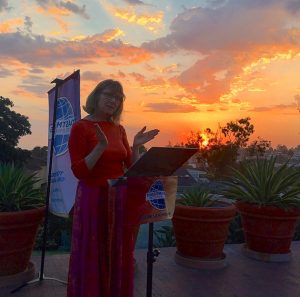 LAGUNA BEACH, CA, – Toastmasters of Laguna Beach invites residents to its open house to meet members and participate in giving a 2-3 minute impromptu speech.
Toastmasters of Laguna Beach provides a supportive and positive environment where members have the opportunity to develop their communication and leadership skills," says Dane Wright, Club President for Toastmasters of Laguna Beach.
After enjoying great food and engaging conversation, members and guests will enjoy a Toastmasters meeting that will include Table Topics™ (impromptu speeches.)
Toastmasters of Laguna Beach Club Founding Member, John Barry who has served in various club positions, will be the Table Topics master. "Table Topics are one of my favorite parts of the meeting," says (Lena Frenzel). "This is where guests and members are randomly selected to speak for one to two minutes. It helps you think and speak clearly on your feet."
Toastmasters of Laguna Beach Open House BBQ
Date: Thursday September 13, 2018
Location: St. Mary's Church Guild Hall 428 Park Ave. Laguna Beach, CA
Time: 6:00pm –8:00pm
For more information, email David Makela at david.makela@gmail.com.
Toastmasters of Laguna Beach meets each Thursday at 6:00pm at St. Mary's Church (Guild Hall) in Laguna Beach. For more information about this event and the club, please visit: lagunabeach.toastmastersclubs.org
About Toastmasters International
Toastmasters International is a worldwide nonprofit educational organization that empowers individuals to become more effective communicators and leaders. Headquartered in Englewood, Colo., the organization's membership exceeds 352,000 in more than 16,400 clubs in 141 countries. Since 1924, Toastmasters International has helped people from diverse backgrounds become more confident speakers, communicators and leaders. For information about local Toastmasters clubs, please visit www.toastmasters.org. Follow @Toastmasters on Twitter.