First Thursdays Art Walk August 2 2018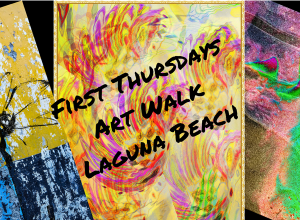 Where: Laguna Beach, California
When: The first Thursday of every month
Time: 6:00 p.m. – 9:00 p.m. Please note: Each gallery may have varying hours. Please check FTAW website for more detailed information regarding FTAW and other gallery happenings.
Cost: Free
Trolley Service: Free Art Walk trolley service starts at 6:30 p.m. and ends at 9:30 p.m. In North Laguna, trolley service starts at Laguna Art Museum. In South Laguna, trolley service starts at Bluebird Canyon Road.
Parking: Metered parking is available along Coast Highway. It is free after 7:00 p.m.
August 2, 2018
6:00 – 9:00 p.m.
Laguna Beach
First Thursday Art Walk
NORTH LAGUNA BEACH
Laguna Art Museum
307 Cliff Drive
Exhibition: Art Colony – Laguna Beach Art Association 1918-1935
Celebrating the centennial of the Laguna Beach Art Association. Over one hundred paintings.
Phoenix Art
376 North Coast Highway
Hand sewn embroidered products based in China. Products include embroidered paintings, replications of emperor clothings, necklaces and scarves.
Quorum Gallery
374 North Coast Highway
Meet Featured Landscape Artist, Karl Kiefer
Reminiscent Realism
Sandstone Gallery
384-A North Coast Highway
Meet exhibiting artists Susan Gale, Ann Kim, Sunny Kim, Dominique McKenzie, Anne Moore, Hyatt Moore, Marie-Pierre Philippe, Jong Ro, and Lynn Welker.
DOWNTOWN LAGUNA BEACH
AG Vision Gallery
532 South Coast Highway
Avran Fine Art
540 South Coast Highway Suite 104 + 106
International glass sculptures and original paintings
Dawson Cole Fine Art
326 Glenneyre Street
Jian Wang's Exhibition: Recent Works Harmonies of Color
Elena Bulatova Fine Art
265 Forest Avenue
Gallery 805
805 Laguna Canyon Road
LCAD Student Exhibition and Sale
LCAD Gallery
374 Ocean Avenue
Annual Juried Student Exhibition 2018
LGOCA
611 South Coast Highway
Latest paintings by Robin Hiers
Las Laguna Gallery
577 South Coast Highway Unit A-1
Endless Possibilities, A Group Exhibition
Opening and Artists' Reception
Laguna Presbyterian
415 Forest Avenue
Exhibit featuring historic photos and homage to Anna A. Hills founding artist of The Art Assocation at the Laguna Museum of Art.
Miche McClendon
241-A Forest Avenue
New Nova collection
Ning Zhou Gallery
357 South Coast Highway
Reflections on Reflections Opening Reception
Water-reflection photographs
The Signature Gallery
220 Forest Avenue
Painter and TV personality Robert Hagen
T Leo Art
550 South Coast Highway #3
New Works by Carolyn Lopez, David Heath, Janet Bludau and T Leo
Whitney Gallery
305 Forest Avenue 102
New selection of paintings by Artist Marc Whitney
SOUTH LAGUNA BEACH
Cove Gallery
1550 South Coast Highway Suite 103
August Artist of the Month Yuri Kuznetsov
New Permanent Artist Lynn Marie McShane
Young Artists Program: featured artists Sierra Delamarter and Addie Briggs
Steve Bernstein's Yucatan Series
Art of Nature Exhibition
foaSouth
1006 South Coast Highway
Exhibit features a variety of images, including behind the scenes large scale photographs of Pageant of the Masters activities which is celebrating 85 years
Nuance Home + Lifestyle
1200 North Coast Highway
The work of Erik Asla
THE STILLNESS OF MOTION
Redfern Gallery
1540 South Coast Highway Suite 103
Donna Schuster (1883-1953) – Impressionism to Modernism
Sheila Olsen Gallery
784 South Coast Highway
Art Decor with Coastal Ocean Accents
The Vintage Poster
1492 South Coast Highway
Large collection of authentic vintage posters