Laguna Beach Art Walk
September 6 2018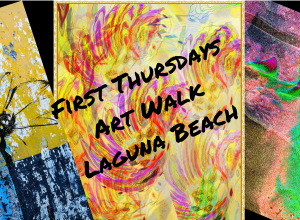 Where: Laguna Beach, California
When: The first Thursday of every month
Time: 6:00 p.m. – 9:00 p.m. Please note: Each gallery may have varying hours. Please check FTAW website for more detailed information regarding FTAW and other gallery happenings.
Cost: Free
Trolley Service: Free Art Walk trolley service starts at 6:30 p.m. and ends at 9:30 p.m. In North Laguna, trolley service starts at Laguna Art Museum. In South Laguna, trolley service starts at Bluebird Canyon Road.
Parking: Metered parking is available along Coast Highway. It is free after 7:00 p.m.
Thursday – September 6, 2018
6:00 – 9:00 p.m.
Laguna Beach
First Thursday Art Walk
North Laguna Beach
Art Galleries
Laguna Art Museum
307 Cliff Drive
Art Colony Exhibition celebrating the centennial of the Laguna Beach Art Association. Join the year-long celebration marking the museum's history and legacy including over one hundred paintings.
Quorum Gallery
374 North Coast Highway
Featured Artist of the Month – Tamara Wood
Downtown Laguna Beach
Art Galleries
AG Vision Gallery
532 South Coast Highway
Avran Fine Art
540 South Coast Highway Suite 104 & 106
Welcoming new artist, Hessam Abrishami
LCAD Gallery
374 Ocean Avenue
Reception and Opening
Exhibition showcasing original works by sports artist, Dave Hobrecht. Exhibit runs until September 27, 2018
LGOCA
611 South Coast Highway
Las Laguna Gallery
577 South Coast Highway Unit A-1
Opening and Artists' Reception –  Through The Lens
Exhibiting photographers for this show include: Norman Aragones, Suzanne Barton, David Blow, Nicholas Botelho, Evelyn Espinoza, Beverly Factor, Samantha Goss, Abhisar Gupta, Samuel Harnois, Clay Harris, Jordan Lee, Brittani McBride, Steve McBride, Amy Migler, Janet Milhomme, Maria Oliveira, Leagh Sachs, Stephen Smith, and Sara Stein.
Exhibit runs until September 28, 2018
Laguna Presbyterian
415 Forest Avenue
Exhibit featuring historic photos of Anna A. Hills, Founding Artist of "The Art Association" at the Laguna Museum of Art.
Miche McClendon
241 A Forest Avenue
Moonshine Collection
Ning Zhou Gallery
357 South Coast Highway
New release by artist/owner entitled Statue of Liberty
South Laguna Beach
Art Galleries
Cove Gallery
1550 South Coast Highway Suite 103
Bill Knauer – Artist of the Month
Redfern Gallery
1540 South Coast Highway Suite 103
Symphony of Colors – Gregory Hull