Support the Kollock Family by Donating!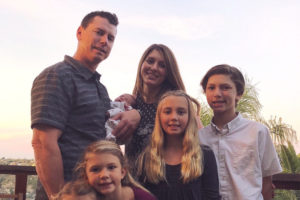 Photo taken from GoFundMe page.
The Kollock family needs support from the Laguna Beach Community now more than ever.
On December 16, 2017 the unimaginable happened their five-week old baby Catalina Raine Kollock was unresponsive so they called 911. When the Laguna Beach Police and Laguna Beach firefighters arrived, they rushed her to the hospital, but she could not be revived.
This is a tragedy no parent or family should ever have to suffer. Please help us support the Kollock family.
This is where the Laguna Beach Community is needed. We need your help. Ryan is the sole supporter of the family as a personal trainer in Laguna Beach. Teresa stays home taking care of their four older children.
Lindsey Meehleis has set up a GoFundMe page for the Kollock family. Please be kind and donate to the Kollock family in these tragic times. They'll need to cover funeral expenses and allow Ryan Kollock to take a few days off to grieve and be with his family.
Our prayers and condolences are with you Ryan, Teresa, and family.
Back to home page