JUMP INTO THE NEW YEAR AND LOSE THOSE HOLIDAY POUNDS WITH HEALTH HAVEN!!!!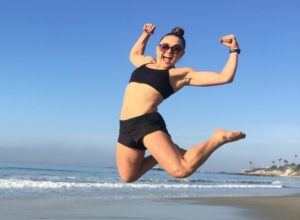 How to Lose those Holiday Pounds Once and For All.
The holidays have come and gone and a new year is here!!! My name is Haven Schulz, a Laguna Beach personal trainer and owner of Health Haven Studio. I personally experienced, and so did many of my clients, the challenge of sticking with a consistent fitness and nutrition plan during all the festivities! Truth is, it is hard to resist the holiday dinners, desserts, and drinks, which often result in those extra pounds to start our New Year! Some of my best tips to get rid of these extra holiday pounds (and maybe even more) are understanding the importance of being fit and healthy, getting started as soon as possible, and finding a plan that fits you!
When it comes to weight loss, many of us simply think of only what the eye can see on the outside. Yes, looking good and feeling confident is important, but it is only part of outcome. Weight loss, regular exercise, and clean eating can improve your overall health, prevent injuries, increase your ability to participate in various activities, decrease depression, and so much more! Looking in the mirror and liking what you see, fitting into your favorite pair of jeans, or getting that bikini body ready for summer are all important goals, but don't forget just how important the healthy decisions you are making will impact your longevity.
Once you understand the extreme importance of including fitness and nutrition in your life it is time to get to work! Getting started as soon as possible is key. Don't wait another day to go for that first run, sign up at a gym, or hire a personal trainer. If you have any holiday foods or treats left in on your kitchen, it is time to make some donations! My online training clients and the clients at my private studio in Laguna Beach know I will hold them accountable to getting that first workout in and going to buy the healthy food needed to fuel them. The Laguna Beach community is filled with amazing options both in the gym and outdoors to include exercise in your daily life. Don't wait until Monday or the next month to start your journey, START TODAY.
Starting your workout plan is just the beginning! Following through is an entirely different challenge! As a certified personal trainer, fitness nutrition specialist, and former body builder I know how hard it is to stick to a plan that does not work for you! For proven results, hiring a personal trainer is a great way to get a perfectly personalized fitness and nutrition plan! You will have the ability to discuss your specific goals, schedule, strengths and weakness, etc. to make a plan that fits your lifestyle. Accountability is the key to success; having a partner or personal trainer involved in your fitness will ensure you continue to make progress and stick with your program.
Whether your goal is to get those holiday pounds off, build strength, mobility, and endurance, or have a complete transformation know that you have the ability to achieve the goals you set before you. We all need a personalized approach when including fitness and nutrition in our life, so do not be afraid to reach out to a fitness coach or nutritionist for help! This can be the best decision you make! What are you waiting for?! Start your healthy lifestyle today. The New Year is here, let's get to work!
Take care, stay strong.
Haven Schulz
Laguna Beach resident
Owner of Health Haven Studio
(949)-207-9115