First Thursday Art Walk January 2018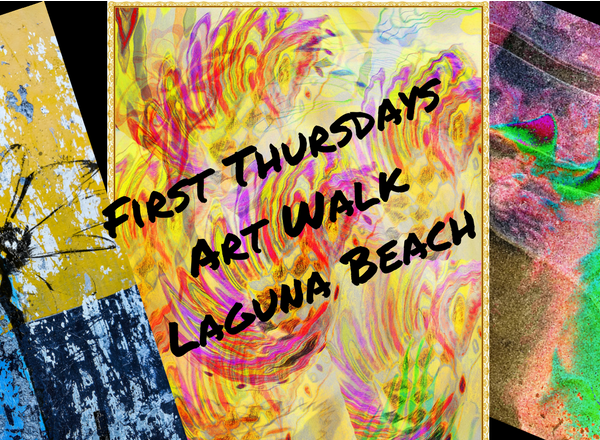 Where: Laguna Beach, California
When: The first Thursday of every month
Time: 6:00 p.m. – 9:00 p.m. Please note: Each gallery may have varying hours. Please check FTAW website for more info.
Cost: Free
Trolley Service: Free Art Walk trolley service starts at 6:30 p.m. and ends at 9:30 p.m. In North Laguna, trolley service starts at Laguna Art Museum. In South Laguna, trolley service starts at Bluebird Canyon Road.
Parking: Metered parking is available along Coast Highway. It is free after 7:00 p.m.
First Thursdays Art Walk Laguna Beach…. bringing more awareness to arts and education.
First Art Walk of the New Year
January 4, 2018
North Laguna Galleries
Laguna Art Museum
307 Cliff Drive
California Mexicana
Missions to Murals, 1820–1930
ends January 14, 2018
Quorum Art Gallery
374 N. Coast Hwy
Meet featured artist, Mike Kinney.
Sandstone Gallery
384-A N. Coast Hwy
Meet the exhibiting artists and enjoy complimentary refreshments during Art Walk from 6:00 – 9:00 p.m. Exhibit runs from Jan 2 – Jan 29, 2018.
Central/Downtown Laguna Galleries
Avran Fine Art
540 S. Coast Hwy Ste 104 & 106
Featuring the works of their newest artist, Alison Haley Paul. Meet the artist and enjoy a special artist demonstration starting at
7:00 p.m.
LCAD Gallery
374 Ocean Ave
The Romance of Prague and the Glory of Vienna
An exhibition by the participants of
LCAD's 2017 Summer Abroad Program
January 4 – January 25, 2018
Elena Fine Art Gallery
570 S. Coast Hwy
Original artworks by Russian artist Angelika Privalikhina and new local artist, Lori Gilbert. Also showing two original Diego Rivera Artworks.
Miche McClendon
241-A Forest Avenue
New collection focusing on the powers of different gems. Meet the artist. Refreshments being served.
South Laguna Galleries
Cove Gallery
550 S. Coast Highway, Suite 103
This week, 2 high school seniors, Shea Skenderian and Ella Steinbach will be showing their work at Cove Gallery.
Nuance Home & Lifestyle
1200 N. Coast Hwy
Artist reception for local artist
Carrie Rawls