North Laguna Beach California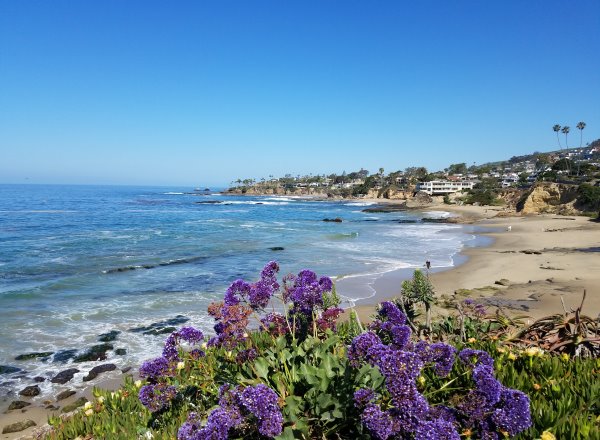 Coastline View of Picnic Beach in Heisler Park, North Laguna Beach Neighborhoods
North Laguna Beach is the section of Laguna Beach that extends north of Broadway and Laguna Canyon Road. The private, gated, community of Irvine Cove is the northernmost neighborhood in Laguna Beach. Furthermore, the exclusive neighborhoods of Emerald Bay and Smithcliffs are also located in North Laguna Beach. This north end of Laguna Beach offers some of the most spectacular Laguna beachfront and ocean view properties in Southern California.
Beaches
Some of the most beautiful beaches on the west coast are located in North Laguna Beach. These popular beaches and coves include: Main Beach, Rockpile Beach, Picnic Beach, Diver's Cove, Fisherman's Cove, Shaw's Cove, and Crescent Bay . Scuba divers, snorkelers, and surfers visit these beaches year-around.
Parks
The Northern area of Laguna Beach also has some spectacular parks that are definitely worth a visit. Main Beach Park and Heisler Park are both very popular with vacationers and locals alike. A few other parks in this area are: Smithcliffs Park, Riddle Field Park, and Irvine Bowl Park. And, if you're looking for a great spot to catch a gorgeous Laguna Beach sunset, don't miss a chance to visit Crescent Bay Point Park.
Things to do in North Laguna Beach
The Laguna Art Museum, formally Laguna Beach Museum of Art, is also located in North Laguna. The Laguna Art Museum collects and displays only California art. This is to say that the art is either created by Laguna artists or the art represents the life and history of California.
You can access the Laguna coast Wilderness Park and its 40 miles of trails though one of the trails heads located in North Laguna. The Laguna Coast Wilderness Park is part of the Natural Community Conservation Planning program designed to protect rare and endangered species. Hikers can enjoy some of the most spectacular ocean and canyon views from these trails. The trails of Laguna Coast Wilderness Park are also connected to the trails of Crystal Cove State Park.
North Laguna Beach Neighborhoods
If you are looking to make a move to North Laguna, you can find everything from adorable beach cottages to some of Orange County's most luxurious oceanfront and ocean view homes.
Homes for Sale in North Laguna Beach
Homes for Rent in North Laguna Beach
North Laguna Beach is home to the exclusive, gated, neighborhoods of Emerald Bay, Irvine Cove, and Smithcliffs.
Residents and visitors of North Laguna Beach have the convenience of using Laguna Canyon Road as an alternative to Coast Highway.
To learn more about Laguna Beach, California please continue browsing this website. This section describes North Laguna Beach. The other sections of Laguna Beach are South Laguna Beach, Village Area, and Laguna Canyon.