Laguna Beach Personal Trainer
Haven Schulz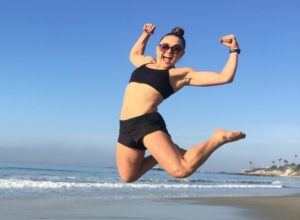 My Journey to Becoming a Personal Trainer

I was just talking to a client at Health Haven Studio today about our different careers and we ask ourselves, "if we didn't HAVE to work would we still want to be doing what we are currently doing?" The answer for me is most definitely yes!
I owe it to my parents for introducing me to fitness and nutrition at a young age. The nutrition part of my life was somewhat forced upon me due to my many food sensitivities and allergies as a young girl. Back in 2006 I changed my diet by cutting out many foods I was sensitive to and had amazing results. This gave me firsthand experience at a young age to both the positive and negative affects food has on one's body. I naturally began to share this with my friends, other family members, and strangers whenever the topic came up.
I started lifting weights with my parents in our home gym in Northern California when I was just 12 years old! I loved growing stronger, seeing my body change, and learning about the affects food has on your performance and recovery in the gym. I exercised consistently through high school, which hugely improved my skills on the volleyball court. While in high school I had many friends and family members ask to workout with me and that's when my interest in personal training began. After high school I also decided to step in to the body building world. I competed four times! I love the experience and learned so much. I got certified while in college as a personal trainer and fitness nutrition specialist and am nothing but thankful I decided to work in this field.

Fitness Articles I've Written
10 Summer Fitness Tips
Being active during these warm sunny months makes it easy to be outside and get moving! However, there are also many other fun Summer activities that may distract us from our fitness and nutrition goals. Check out my 10 tips to keep you on track this summer!
Read Article Here 10 Summer Fitness Tips
A Flat Stomach
Learn what to eat, drink, and do to get a flat, strong core that you have always wanted! These are some of the exact tips I give my clients at Health Haven Studio.
Read Article Here A Flat Stomach
Building Muscle Burns Fat
Find out the important benefits behind building muscle and how it can actually help you burn some of that stubborn fat!
Read Article Here Building Muscles Burns Fat
Healthy Holiday Eating Tips
I am going to help you avoid that unwanted holiday gain by giving you my top HEALTHY HOLIDAY tips for eating clean, but still enjoying the holiday season!
Read Article Here Healthy Holiday Eating Tips
Lose those Holiday Pounds
We've all done it, I am talking about gaining some extra pounds during the holidays! Read my article to find out the fastest way to drop those pounds in a healthy less stressful manner!
Read Article Here Lose Those Holiday Pounds
Private Personal Training
Find out why YOU should try private personal training! Even if you are experienced in the exercise department, we can all use guidance and advice from a professional! Even I seek out ideas from other trainers! Click the link below to find out more.
Read Article Here Private Personal Training
Spring Into Fitness
Spring should get you feeling energetic and full of life! So why not just jump right into creating healthier habits to get you ready for summer?! Here in Laguna Beach there are many different ways to meet your fitness goals! Let's find out what my favorites are!
Read Article Here Spring Into Fitness
Diets Rarely Work

DIET the dreaded word…. click the link below so you can learn to LIKE that word and the idea of starting one!
Read Article Here Diets Rarely Work

Why I'm qualified to be your Personal Trainer
On paper, I am qualified to be your personal trainer because I have a degree in behavioral sciences, I am a certified personal trainer, a fitness nutrition specialist, a (soon to be) corrective exercise specialist, and I have personally been exercising and eating clean consistently for over 10 years.
However, that is not the part I like to talk about. I believe I am most qualified to be your personal trainer because I will never give up on you. I will do whatever it takes to make sure we meet your desired goals (as long as they are healthy and reasonable). I will put as much effort into your journey as you do and will be there for you every step of the way. I have first hand experience when it comes to losing weight, gaining weight, competing in bodybuilding, improving endurance, creating recipes that meet specific dietary needs, calculating personalized nutrient totals, etc. And you don't have to worry, I will never force a goal upon you or tell you you need to look a certain way. YOUR goals are MY goals.
Meal Planning
Meal Planning is an essential part of my clients' success, don't worry this does not mean that my clients meal prep every week! I plan their meals for them in a way that best fits their preferences, schedules, goals, etc. When clients are going on vacation or out to eat I help them PLAN what choices would be best for them.
However, I highly suggest my clients do have their meals prepped/planned a day in advance to make sure they stay on track! My best tip for meal prepping is something I call "Repeat Eating" which means you repeat what you eat 2-3 days in a row, at lest for a few meals during the day. That way they are able to multiple servings at once to store in the fridge. If this type of prep sounds overwhelming to you, I highly suggest you just stock your fridge with healthy foods and keep junk food out of the house.
Quick and easy healthy recipes
Crustless Quiche
This is one of my favorite breakfast recipes to ale during the week days because I can have it for a couple mornings in a row! This is an easy, low carb-high protein recipe that is packed full of flavor!

Zucchini Lasagna
I love marinara, but high carb meals are really hard on my stomach! So? I created this delicious client favorite! My zucchini lasagna is fail proof and a great option for both dinner and leftovers for lunch!

Chocolate Oat Protein Cookies
One of my clients' favorite parts about my meal plans is that you can have desert all day long if you want (kind of). This protein cookie recipe is the perfect snack and afternoon pick-me-yo before a workout! Made with oats, protein, and coco powder you are safe to indulge in a few extra cookies!

Personal Training Services Offered
50 minute One-on-One
25 minute One-on-One
*all One-on-One training comes with nutrition plans and accountability check-ins
50 minute Buddy Training (2 people)
50 minute Private Small Groups (3-5 people)
#WORKOUTwednesdays
30-45 minute Group workouts (2-6 people)
Create Your Own Bootcamp
This is a fun option coworkers, a family, or a group on friends can create with their own goal/duration in mind. This can be a fundraiser, a contest, etc.
Online Training
Busy clients also have the option of an Studio/Online combination training. My clients that choose this option receive personalized workout and nutrition plans that fit their busy lifestyle. If they have time they come in for a weekly or bi-weekly workout and check-in.
Other clients are completely online and we communicate through text, email, social media, and Skype.