Laguna Beach First Thursdays Art Walk
December 6, 2018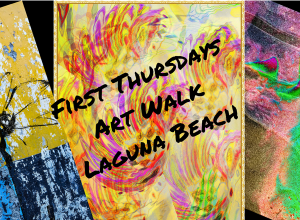 Where: Laguna Beach, California
When: The first Thursday of every month
Time: 6:00 p.m. – 9:00 p.m. Please note: Each gallery may have varying hours. Please check FTAW website for more detailed information regarding FTAW and other gallery happenings.
Cost: Free
Trolley Service: Free Art Walk trolley service starts at 6:30 p.m. and ends at 9:30 p.m. In North Laguna, trolley service starts at Laguna Art Museum. In South Laguna, trolley service starts at Bluebird Canyon Road.
Parking: Metered parking is available along Coast Highway. It is free after 7:00 p.m.
Thursday – December 6, 2018
6:00 – 9:00 p.m.
Laguna Beach
First Thursday Art Walk
First Thursday Art Walk & Laguna College of Art + Design present works of their graduating seniors during this December's Art Walk.
The galleries listed below will be showing their student's art which will also be available for sale. The student artists will also be on site.
All proceeds from the sales go directly to the student and the FTAW/LCAD Scholarship fund.
Cast of Crowns Art Collective
Students: Gabriela Accarino, Jack Bazan
Kelsey Michaels Fine Art
Student: Auggie Vaccaro
Pure Laguna
Student: Ben Askevold
Quorum Gallery
Student: Denise Ogier
saltfine art
Students: Sima Benson, Miguel Espinosa
Avran Fine Art
Students: Andrew Cortez, Shannon Vaught
Dawson Cole Fine Art
Student: Mary Lippert
Elena Bulatova Fine Art
Student: Ana Sanchez
LGOCA
Student: Mandy Thibert
Whitney Gallery
Student: Claire Miller
Wyland Gallery
Student: Jessica Chong
Artist Eye Gallery
Student: Maria Bryant
Cove Gallery
Student: Christine Lee
NORTH LAGUNA BEACH GALLERIES
Laguna Art Museum
307 Cliff Drive
Art Colony: The Laguna Beach Art Association celebrates the centennial anniversary of the founding of the Laguna Beach Art Association
Lu Martin Galleries
372 North Coast Highway
New collection by Martin Beaupre – Journey of Zen. Also, cellist, Hitoshi Suzuki will perform from 7:00 to 8:30 p.m.
Quorum Gallery
374 North Coast Highway
Meet featured artist of the month, Ellen Gladis
Sandstone Gallery
384-A North Coast Highway
Featuring Art Under Pressure, original monotypes by Anne Moore. Meet exhibiting artists during the Art Walk and complimentary refreshments
CENTRAL LAGUNA BEACH GALLERIES
AG Vision Gallery
532 South Coast Highway
Avran Fine Art
540 South Coast Highway
FTAW/LCAD Mentoring Program Participant (see above)
Dawson Cole Fine Art
326 Glenneyre Street
Elena Bulatova Fine Art
265 Forest Avenue
FTAW/LCAD Mentoring Program Participant (see above)
LCAD Gallery
374 Ocean Avenue
Summer Abroad Program presenting – The Beauty of Holland and Magnificence of Spain which will be on display until January 23, 2019. Opening Reception during Art Walk.
Las Laguna Gallery
577 South Coast Highway A1
Opening Reception – Be There. Be Square. A group exhibition that will run until December 28, 2018.
LGOCA
611 South Coast Highway
FTAW/LCAD Mentoring Program Participant (see above)
Miche McClendon
241-A Forest Avenue
New collection: Gold Moon
The Signature Gallery
220 Forest Avenue
The Best Things Come in Small Packages
until December 23, 2018
Whitney Gallery
305 Forest Avenue
FTAW/LCAD Mentor Program Participant (see above)
Also, new paintings by artist Marc Whitney
SOUTH LAGUNA BEACH GALLERIES
foaSouth
1006 South Coast Highway
Stillman Sawyer – Nature's Majesty
until January 18, 2019
LO CAL Tattoo & Art Studio
1850 South Coast Highway
Nuance Home + Lifestyle
1200 North Coast Highway
Annual Holiday Party and live music
Featured Artist, Lori Landry
Redfern Gallery
1540 South Coast Highway Suite 103
Maurice Braun A Perfect Day