First Thursdays Art Walk February 2018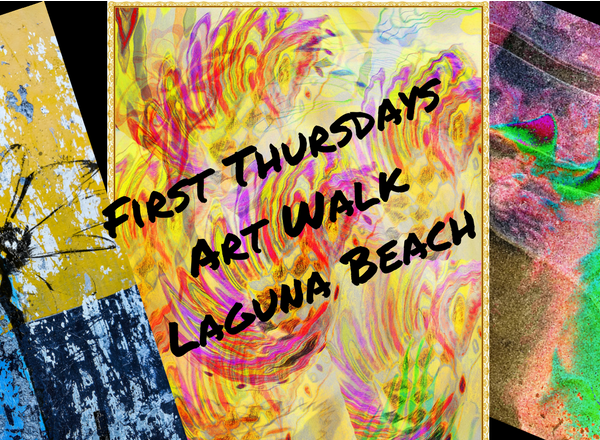 Where: Laguna Beach, California
When: The first Thursday of every month
Time: 6:00 p.m. – 9:00 p.m. Please note: Each gallery may have varying hours. Please check FTAW website for more info.
Cost: Free
Trolley Service: Free Art Walk trolley service starts at 6:30 p.m. and ends at 9:30 p.m. In North Laguna, trolley service starts at Laguna Art Museum. In South Laguna, trolley service starts at Bluebird Canyon Road.
Parking: Metered parking is available along Coast Highway. It is free after 7:00 p.m.
February 1, 2018
6:00 – 9:00 p.m.
North Laguna Beach
Laguna Art Museum
307 Cliff Drive
There will be over 100 works by California artists shown here from February 1st thru February 9th. These pieces will be available at the 36th Annual California Cool Art Auction. The art auction will be held February 10th at Laguna Art Museum from 6:00 p.m. to 10:00 p.m.
Quorum Art Gallery
374 North Coast Highway
Meet featured artist, Chilean fine art photographer Lu Ross during Art Walk. She is a representational and abstract fine art photographer and digital artist.
Sandstone Gallery
384-A North Coast Highway
Meet exhibiting artists and enjoy refreshments during Art Walk.
Downtown Laguna Beach
Avran Fine Art
540 South Coast Highway, Suite 104 & 106
Meet American artist James C. Leonard during Art Walk. This will be the opening reception of his month long "Inner Landscapes" exhibition.
LCAD Gallery
374 Ocean Avenue
Laguna College of Art & Design will be holding the reception for their "Fashion, Fantasy, and the Future" exhibition during Art Walk. The exhibition will run from February 1st through February 22nd. This exhibit features the works of costume concept artist designer, Phillip Boutte Jr. He is the costume concept artist for many blockbuster movies and popular music videos.
Las Laguna Gallery
577 South Coast Highway A-1
Artist Reception and Opening of the "Two of Hearts" Group Exhibition will be held during Art Walk from 6:30 – 9:30 p.m. This exhibition is all about the heart and will run until February 24th. Featured artist is Sarey Rudin.
Miche McClendon
241-A Forest Avenue
Miche McClendon will be showing and talking about love inspired pieces including hearts and the gems associated with love during this month's Art Walk.
Whitney Gallery
305 Forest Avenue 102
A new selection of Artist Marc Whitney's paintings will be on display. Classical guitarist, Nicholas Yrizarry will be performing during Art Walk from 6:00 – 9:00 p.m.
South Laguna Beach
Cove Gallery
1550 South Coast Highway 103
Laguna Beach High Seniors Shea Skenderian and Ella Steinbach will be showing their work at the gallery. Come meet them during Art Walk, see their work, and also the works of the permanent Cove Gallery artists.
Sheila Olsen Fine Art
784 South Coast Highway
Open during Art Walk and showing abstract Seascapes by Sheila Olsen.