First Thursdays Art Walk June 7 2018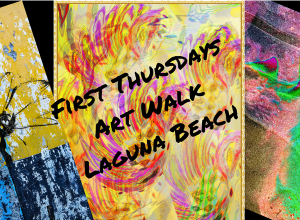 Where: Laguna Beach, California
When: The first Thursday of every month
Time: 6:00 p.m. – 9:00 p.m. Please note: Each gallery may have varying hours. Please check FTAW website for more detailed information regarding FTAW and other gallery happenings.
Cost: Free
Trolley Service: Free Art Walk trolley service starts at 6:30 p.m. and ends at 9:30 p.m. In North Laguna, trolley service starts at Laguna Art Museum. In South Laguna, trolley service starts at Bluebird Canyon Road.
Parking: Metered parking is available along Coast Highway. It is free after 7:00 p.m.
June 7, 2018
6:00 – 9:00 p.m.
Laguna Beach
First Thursday Art Walk
NORTH LAGUNA BEACH GALLERIES
Laguna Art Museum
307 Cliff Drive
lagunaartmuseum.org
Oskar Fischinger – Paintings from the Permant Collection
until June 17, 2018
Quorum Gallery
374 North Coast Highway
quorumgallery.com
Meet Featured Artist of the month, Elaine Ruettiger
Sandstone Gallery Laguna
384-A North Coast Highway
sandstonegallery.com
Meet exhibiting artists. Refreshments served.
Studio 7 Gallery
384-B North Coast Highway
studio7gallery.com
Fine art painting demos and refreshments
Zane Gallery
and Training Studio
439 North Coast Highway
zanegallery.com
Healthy bites, demonstrations, and prize drawings.
DOWNTOWN LAGUNA GALLERIES
Avran Fine Art
540 South Coast Highway Suite 104 & 106
avranart.com
Meet the artist, Pat McNabb Martin, at Opening Ceremony of her works.
Dawson Cole Fine Art
326 Glenneyre Street
dawsoncolefineart.com
Featured Artist, Hunt Slonem, view works on display
Refreshments served
Laguna Presbyterian
415 Forest Avenue
lagunapreschurch.org
Come see Art Walk exhibit featuring historic photos by Anna A. Hills, founding artist of The Art Association at the Laguna Museum of Art
LCAD Gallery 805
805 Laguna Canyon Road
Art Walk Opening Reception: The Next Wave- New Masters of Fine Art
running until June 26, 2018
LCAD Gallery
374 Ocean Avenue
lcad.edu/gallery/college-gallery
Annual Juries Student Exhibition, 2018
until August 31, 2018
Las Laguna Gallery
577 South Coast Highway A-1
laslagunagallery.com
The 2nd Half: A Group Exhibition for Artists 50 and Older
Miche McClendon
241-A Forest Avenue
michemcclendon.com
New Goddess Jewelry, see how the pieces are created, enjoy refreshments.
The Signature Gallery
220 Forest Avenue
thesignaturegallery.com
Manuel Avendano- Latin Passions
Artist Reception
T Leo Art
550 South Coast Highway #3
tleoart.com
Original Art of David Heath, Janet Bludau and T. Leo. Also, guest artist Carolyn Lopez and silver jewelry Artist Miche
Whitney Gallery
305 Forest Avenue
marcwhitney.com
New paintings by artist Marc Whitney
SOUTH LAGUNA BEACH GALLERIES
The Cove Gallery
1550 South Coast Highway Suite 103
covegallerylaguna.com
The Art of Nature exhibition Grand Opening Event
will run until July 28, 2018
foaSouth
1006 South Coast Highway
lagunafestivalofarts.org
Exhibit: Mixing it Up
running until July 25, 2018
Nuance Home + Lifestyle
1200 North Coast Highway
nuance-home.com
The Redfern Gallery
1540 South Coast Highway
www.redferngallery.com
Celebrating Edgar Alwin Payne (1883-1947)
Sheila Olsen Gallery
784 South Coast Highway
sheilaolsen.com
The Vintage Poster
1492 South Coast Highway Suite 4
thevintageposter.com