First Thursdays Art Walk April 5 2018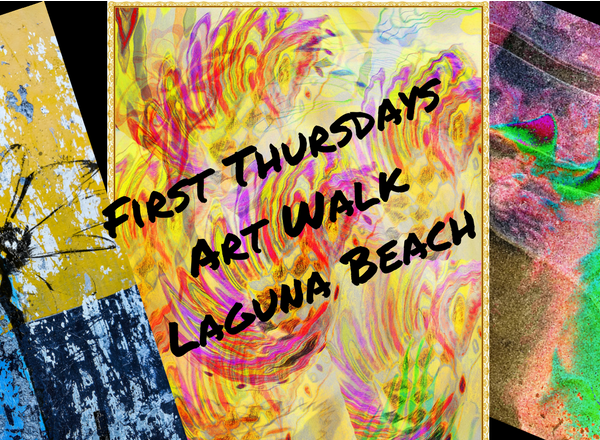 Where: Laguna Beach, California
When: The first Thursday of every month
Time: 6:00 p.m. – 9:00 p.m. Please note: Each gallery may have varying hours. Please check FTAW website for more detailed information regarding FTAW and other gallery happenings.
Cost: Free
Trolley Service: Free Art Walk trolley service starts at 6:30 p.m. and ends at 9:30 p.m. In North Laguna, trolley service starts at Laguna Art Museum. In South Laguna, trolley service starts at Bluebird Canyon Road.
Parking: Metered parking is available along Coast Highway. It is free after 7:00 p.m.
April 5, 2018
6:00 – 9:00 p.m.
Laguna Beach
First Thursday Art Walk
Laguna Art Museum
307 Cliff Drive
949-494-8971
website
Tony DeLap – A Retrospective exhibition includes approx. 80 paintings, sculptures, & drawings. Available to view through May 28, 2018.
Quorum Art Gallery
374 North Coast Highway
949-494-4422
website
Meet featured artist of the month, Tim Genet.
Landscape painting, oil & mixed media painting, Expressive Figurative, and abstract pieces.
Sandstone Gallery
384-A North Coast Highway
949-497-6775
website
April 2nd – 30th, 2018 / Art Under Pressure
Meet exhibiting artists: Scottie Flamm, Susan Gale, Ann Kim, Sunny Kim, Dominique McKenzie, Anne Moore, Hyatt Moore, Marie-Pierre Philippe, Jong Ro, and Lynn Welker during the Art Walk. Refreshments also offered.
Virga Gallery
305 North Coast Highway
949-338-0554
website
New artworks by artists: Sophia Hyun, Arso Ivanovich, Nils Johnson Jr., Austin Kalos Paxton, Jennifer Lindsey, Simone Davis, A. Tarman, Sonya Sheik, Natalie Goudal, andVirga.
Avran Fine Art
540 South Coast Highway Ste 104+106
949-494-0900
website
Featuring a special preview of all their artists during Art Walk.
LCAD Gallery
374 Ocean Avenue
949-376-6000
website
Exhibit Reception: Miscellany by GMUNK
Las Laguna Gallery
577 South Coast Highway A-1
949-667-1803las
website
Comics, Anime, Cartoons & Fantasy – Reception and Opening during Art Walk from 6:30-9:30. Show runs until April 27, 2018.
LGOCA
Laguna Gallery of Contemporary Art
611 South Coast Highway
949-677-8273
website
LGOCA will be showcasing two hand painted surfboards during the month of April. Proceeds from the sale of the boards will go to Surfers Healing. Surfers Healing is a surf camp for children with autism.
Miche McClendon
241-A Forest Avenue
757-390-8099
website
Talk with the artist, enjoy snacks, and see the new mini collection Midas.
Ning Zhou Gallery
357 South Coast Highway
714-726-1763
website
Love Letters to Nature Exhibition from April 5 – April 12, 2018.
Twenty-nine paintings on rice paper by Chinese Artist, Wang Xin Yong.
Meet the artist during Art Walk at Opening Reception.
Whitney Gallery
305 Forest Avenue 102
949-497-4322
website
New paintings on display by artist Marc Whitney
Artist Eye Gallery
1294-A South Coast Highway
949-497-5898
website
Meet the displaying artists and enjoy refreshments during Art Walk
Cove Gallery
1550 South Coast Highway Suite 103
949-494-1878
website
Meet Cove Gallery's artist of the month, Maribeth McFaul during Art Walk.
foaSOUTH
1006 South Coast Highway
949-494-1145
website
See the works of Bradford J. Salamon during First Thursdays Art Walk. This exhibit will run through April 25, 2018.
La Bottega Dell'Acquaforte
1590 South Coast Highway Suite 4
949-497-6690
Come see the works of guest artist Jadranka Mihajlovic Munitic
Sheila Olsen Fine Art
784 South Coast Highway
949-423-9990
website
Visit Sheila Olsen Fine Art Group Show during First Thursdays Art Walk.