Laguna Beach Community Spotlight on Lexi McKeown
Laguna Beach Community
Spotlight on
Lexi McKeown
GOLDEN TORCH RECIPIENT 2019
HONORS BIOLOGY 4.0 GPA
Meet 4th generation Laguna Beach Local, Lexi McKeown
We are honored to learn about Lexi and all her accomplishments. Lexi McKeown excels in both academics and athletics.
Born and raised here in Laguna Beach, Lexi now attends Florida State University.

Academics:
High School Honors
Graduated Summa Cum Laude with a 4.58 GPA
Superintendent's Honor Roll Award 2014-2018, all semesters
Orange Coast League Academic Achievement Award 2014-2017
Excellence Award in AP Calculus 2017-2018
Excellence Award in US History 2016-2017
Athletic Leadership Team 2016-2017 and 2017-2018
Athletics:
Beach Volleyball
2018 AVCA High School Beach All-American Second Team
1st Place Gold Medalist in the IBVL Southern California Pairs Championships
3rd Place Bronze Medalist of 150 teams at the BVCA's National Club Championships U18 Gold Division
3rd place Bronze Medalist in the AVP First U18 National Championships
1st Place Gold Medalist in the AVP First U18 Gold Event Qualification Tournament
3rd Place at the AVP Next Women's Open
5th Place of 125 teams at the U18 Gold Division AAU Junior Nationals
Indoor Volleyball
Female Athlete of the Year 2018 at Laguna Beach High School
Most Valuable Player of the Orange Coast League 2017-2018 and 2016-2017 seasons
Most Valuable Player and Captain's Award on Laguna Beach Varsity Volleyball Team 2017-2018 and 2016-2017
All CIF Division 3 First Team 2017-2018
All County Second Team 2017-2018
Named as one of Laguna Beach High School's Indoor All Time Career Top 10 Players 2003-2017
BEYOND HIGH SCHOOL
Academics:
Sophomore majoring in Biology in the Honors College Florida State University
Currently has a 4.0 GPA
President's List for fall 2018 and spring 2019
2019 Golden Torch Award recipient
ACC Academic Honor Roll for 2018-2019 recipient
Research Assistant in a molecular neurobiology lab
Athletics:
Beach Volleyball
CCSA Conference Champions 4th year in a row 2018-19
FSU finished 4th at the NCAA Division 1 National Beach Volleyball Championships 2018-19
The AVP Gold Series in Manhattan Beach Pro Open Tournament, Lexi and her partner Piper Heidrich-Monk (UCLA) played in the qualifier 8th out of 74 teams.
Summer 2019
AAA California Beach Volleyball Association (CBVA)/P1440 ranking and is ranked 11 overall in CBVA women
Won her first CBVA Women's Open Tournament ever at Will Rogers State Beach with Nikki Reinking who plays at Long Beach State
Played in 10 CBVA women's tournaments and placed in the top 5 in 7 of the tourneys
Placed 5th in the BVCA College National Championships with partner Ashlyn Rasnick-Pope from LSU
Placed 5th in the Relentless/So Cal AVP America Series Women's Open
Also placed 9th in the AVP America Huntington Beach June Open Championship
---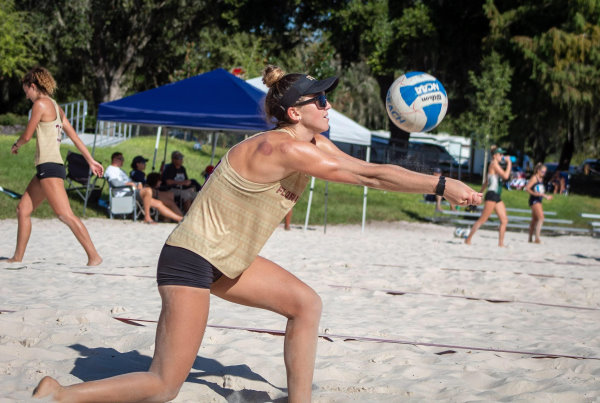 ---
Congratulations
Golden Torch Award 2019 Receipient
Lexi McKeown!!
---